Research
Novel Biomaterials made from Biopolymers
As target-specific biopharmaceuticals begin to attract attention as a new medical modality, drug delivery system (DDS) is undergoing a paradigm shift from conventional small molecule compounds to biopharmaceuticals. But, if artificially made polymeric materials are used as DDS carriers, they may be trapped by various sensors inside and outside the cell and recognized as foreign substances. On the other hand, cells communicate through biopolymers such as proteins, nucleic acids, and carbohydrates. Listening to and understanding these communications is essential to creating effective and safety medical materials. Our goal is to develop novel biofunctional materials that utilize these various recognition mechanisms inside and outside of cells.
Key word
Nucleic acid、Protein、Carbohydrate、vaccine、adjuvant、Drug Delivery System、Bioconjugate
1. Protein delivery to cancer cells
 Because cancer cells overexpress CD44, one of the receptors for hyaluronic acid (HA), a conjugate consisting of a protein and HA can specifically deliver the protein to cancer cells via HA. We are aiming to modify the antigenicity of cancer cells by delivering proteins that serve as antigens.

2. Nucleic acid delivery to cancer cells
 Cells have a variety of nucleic acid sensors. By stimulating these sensors with appropriate nucleic acids, it is possible to activate cells. Currently, we are trying to improve the sensitivity of cancer cells to immunity by conjugates consisting of HA and nucleic acids (double-stranded RNA).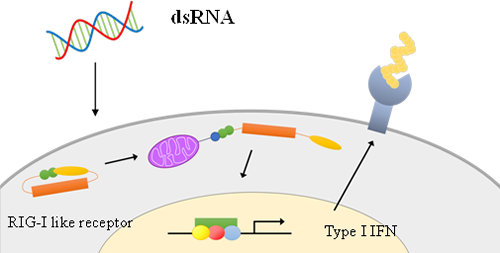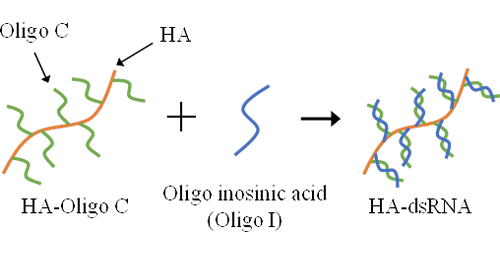 3.Immune induction by CpG-peptide conjugates
 We are trying to induce antigen-specific immune responses by conjugates consisting of antigenic peptides and immunosimulating nucleic acids (CpG-DNA). The peptide in the conjugates is designed to be released after uptake by the cell and efficiently presented as antigen on the cellular surface.